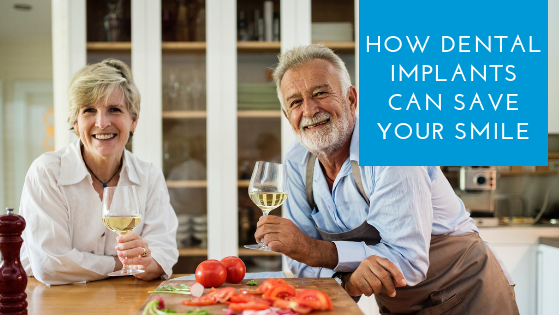 Dental implants are a popular and permanent way to improve the stability of your mouth. If you have missing teeth, or wear removable dentures, they can offer a way for you to maintain a stable, strong and long-lasting smile.
These alternatives to your natural tooth root are made of titanium, a metal that fuses with your jaw bone. When natural teeth are lost, your natural jaw bone can weaken, diminishing your ability to chew and change the form of you face and smile. If you are struggling to chew your favorite foods, or just plain embarrassed by your mouth's appearance, implants may be your smile-saver.
How It Works
Dental implants are anchors that are surgically placed in your jaw. Titanium accompanies a few other materials to make up this anchor, and are safe to the body; your own bone will grow and join together to support the implant. After the proper waiting time – usually three to six months – the implant is ready for the permanent tooth replacement or prosthetic to be placed on the anchor.
Single tooth loss is one reason to consider an implant, but even total tooth loss can be successfully restored with implants. As explained by the American Dental Association (ADA), there are three basic steps for implant placement:
Surgical placement of the implant by a qualified dental professional.
Healing time for "osseointegration," allowing the bone to grow around the implant.
Placing of the artificial tooth or teeth
In most cases, the total integration of bone is necessary before a permanent restoration can be installed. In rare cases, an implant can be "loaded" with a restoration immediately after surgery. If more healing time is needed, your dentist will fabricate a temporary replacement until the final restoration can be placed.
Are Dental Implants Right for You?
Dental implants have been used in the U.S. for decades and have been improved and perfected over the years. Currently, according to the American Academy of Implant Dentistry (AAID), 500,000 American adults undergo implant therapy of some form every year. The procedure has proved to have a 98-percent success rate if proper placement procedures and oral hygiene regimens are followed. Are you a candidate for an implant? The answer in most cases is yes, with some caveats.
There are many things to consider before seeking treatment, but the two at the forefront are your medical history and the costs involved. Patients who suffer from chronic illnesses like leukemia and diabetes are not good candidates, as these conditions inhibit the body's ability to heal. Patients who have been treated with bisphosphonates (usually found in chemotherapy drugs), as well as popular bone-building drugs like Fosamax and Boniva are carefully scrutinized as well. Additionally, people who smoke have diminished mouth health and may need to be counseled in a smoking cessation program prior to an implant.
Your dental history focuses on the health and thickness of the jawbone, and the number of implants a practice would need to restore your smile. Another important factor is your oral hygiene habits. In order for the implant to be a success, proper brushing and flossing is vital for the implant to last a lifetime. Without proper care, the implant can become infected and fail. Your dentist or dental hygienist will instruct you on proper care and the specific dental aides appropriate for use around the implant.
Dental Implant Procedure and Costs
Due to the nature of the procedure, there are a series of steps you should take. The first is to seek care from a dentist who specializes in implant placement. Your general dentist can refer you to these specialists, who usually practice oral surgery or periodontology.
Once you've chosen a specialist, he or she will examine you and run diagnostic tests to assess what needs to be done before placing the implant. Depending on the extent of your tooth loss, how long they've been out and which jaw (upper or lower) they were in will determine the tests required. They may include:
Full mouth X-rays and computer tomography or CT scan
Extractions of failing teeth
Bone grafts or sinus lifts
Temporary teeth replacements or prosthetics
A single implant placement typically costs between $2000 to $3000, according to 1-800-DENTIST, but this can increase if multiple teeth are involved and other surgical procedures are needed. Keep in mind this cost does not include the final restoration crowns, bridges or dentures, which are done by a general or cosmetic dentist.
Dental implants are a sustainable replacement for missing teeth. They can also serve as anchors for partial and full dentures that have become loose or ill-fitting. In either case, they allow you to restore your smile to its natural and fully functional condition. Of course, they are not for everyone, but more and more adults are pursuing this dental procedure to restore their healthy, confident smile.