Root Canal Treatment
A solution to save your natural teeth
What is endodontic treatment, or a root canal?
There's no need to be worried if your dentist or endodontist prescribes a root canal procedure to treat a damaged or diseased tooth. Millions of teeth are treated and saved this way each year, relieving pain and making teeth healthy again.
Inside your tooth, beneath the white enamel and a hard layer called dentin, is a soft tissue called pulp. This tissue contains blood vessels, nerves and connective tissue, which help grow the root of your tooth during its development. A fully developed tooth can survive without the pulp because the tooth continues to be nourished by the tissues surrounding it.
Modern endodontic treatment is nothing like those old sayings! It's very similar to a routine filling and can usually be completed in one or two appointments, depending on the condition of your tooth and your personal circumstances. Getting a root canal is relatively painless and extremely effective. You'll be back to smiling, biting and chewing with ease in no time.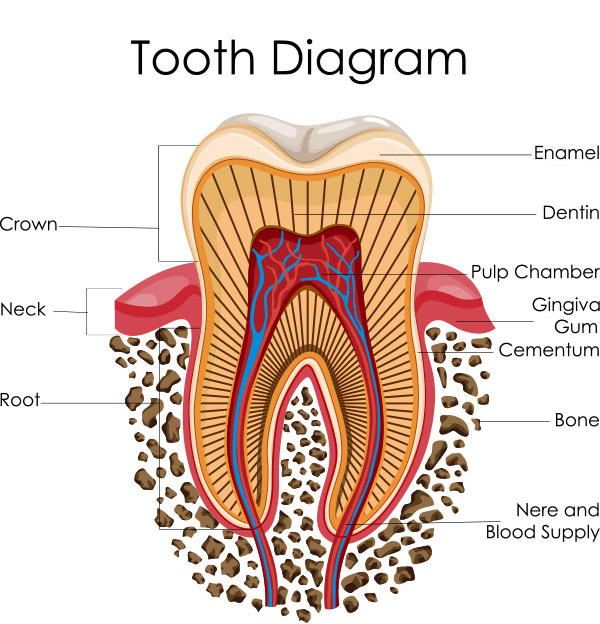 Why do I need a root canal?
Endodontic treatment is necessary when the pulp, the soft tissue inside the root canal, becomes inflamed or infected. The inflammation or infection can have a variety of causes: deep decay repeated dental procedures on the tooth or a crack or chip in the tooth. In addition, an injury to a tooth may cause pulp damage even if the tooth has no visible chips or cracks. If pulp inflammation or infection is left untreated, it can cause pain or lead to an abscess.
What happens during a root canal?
A local anesthetic will be given. A sheet of latex called the "rubber dam" (we've got nonlatex ones, too) will be placed around the tooth to isolate it, hence keeping it clean and dry during treatment. The treatment consists of three or four basic steps, but the number of visits will depend on your particular case.  Some treatments take 2 visits but many are just a single visit. Occasionally 3 appointments are needed.
In any case, it depends on the degree of infection/inflammation and degree of treatment difficulty.  To me, it's more important to do it the very best we can then to meet a specific time criteria. Let's look at the basic steps for nonsurgical endodontic therapy.
There are, of course, no guarantees. Root canal or endodontic therapy has a very high degree of success, up to 90%. Teeth which can be treated near ideal have a success rate up to ninety percent!  We will discuss with you the chances of success before any endodontic procedure to help you make an informed decision. If a root canal or endodontic therapy is unsuccessful or fails you still have options.
What are the benefits of a root canal?
There are many clinical reasons for needing root canal treatment, but there are also countless practical reasons why saving the natural tooth is a wise choice. Endodontic treatment helps you maintain your natural smile, continue eating the foods you love and limits the need for ongoing dental work. With proper care, most teeth that have had root canal treatment can last a lifetime.
Virtually Pain-Free Procedure
Root canal treatment is virtually painless and often leaves you with less discomfort during recovery than if you have your natural tooth extracted. Thanks to modern techniques and effective anesthesia, patients who experience root canals are six times more likely to describe it as painless than patients who have a tooth extracted.
Efficient & Cost-Effective
Tooth extraction can take longer than root canal treatment due to follow-up appointments required for a denture, bridge or implant; plus the cost may be higher. Most dental insurance plans cover endodontic treatment.
Visually Appealing Result
Crowns not only function like natural teeth; they look great, too. Improve your smile and laugh out loud again with root canal treatment.