How technology has improved the root canal experience.
In recent years, dramatic improvements in root canal diagnostics and treatments have improved patient outcomes and comfort. Advanced Endodontics of Aiken continually improves the root canal experience and procedure with the latest technology available. Using the latest technology means we can get better results, save more teeth and improve the quality of life of that patient.  The three most current and powerful technologies Advanced uses are:  The Dental Operating Microscope, Cone Beam Computerized Tomography (CBCT or 3D imaging), and The GentleWave System.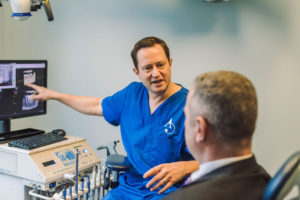 Microscopes aren't exactly a new technology, but they have greatly improved and facilitated the root canal procedure. With the use of the dental operating microscope your endodontist can be more precise since your tooth can be magnified as up to 100 times more than the naked eye can see. At Advanced Endodontics of Aiken, we can navigate through even the most intricate procedures using the most powerful microscope in the dental industry, the Carl Zeiss ProErgo. In addition, the endodontic assistants at Advanced Endodontics of Aiken are highly trained in assisting through the operating microscope.  There is no substitute for treating the patient's tooth through the microscope.  Dr. Shawn Velez of Advanced Endodontics often says, "You cannot treat what you cannot see".
Cone Beam CT (or CBCT) is a 3D digital imaging technology that allows Dr. Velez to see the patient's tooth, surrounding bone, and disease in three dimensions.  Being able to see the patient's tooth in 3D allows for a more rapid and precise diagnosis as many dental diseases are not visible utilizing two-dimensional (or 2D dental x-rays) imaging traditionally used in dentistry.  Advanced Endodontics of Aiken uses newest and one of the most powerful 3D imaging machines available in dentistry, the Carestream CS9600.
Advanced Endodontics of Aiken also uses the GentleWave system, which is the latest technology in root canal procedures. GentleWave uses Multisonic Ultracleaning, which merges powerful disinfecting liquids and sound into an effective tool to clean and disinfect the root canal. The GentleWave procedure decreases the potential of failed treatment outcomes by removing all the infected and inflamed tissue in the small channels inside the root.  GentleWave is minimally invasive and more importantly, patients report improved comfort and quicker recovery after the treatment is completed. The bottom line is that GentleWave provides a higher quality cleaning within the root canal system vs. traditional root canal therapy, it is less invasive and more predictable than a traditional root canal.
Advanced Endodontics of Aiken is dedicated to saving your natural teeth, and we rely on the latest technology to make root canal treatment more comfortable for patients while improving your recovery and outcomes. Contact us today for more information on how we can improve your smile and save your natural teeth.