Save It or Replace It
Dental decay (cavities) and fractures affect the health of our teeth and can cause us to experience pain and discomfort in our mouth. The solution, however, is not always to remove the affected tooth. Thanks to modern technology and advanced practices of doctors like Dr. Jennibeth Robles and Dr. Shawn Velez, patients experiencing tooth pain have more options to save and/or replace their teeth. Their specialties of endodontics and oral surgery complement each other, so they provide an ideal setting to receive an optimal solution for your dental needs.
The dental specialists at Advanced Endodontics, Oral and Facial Specialists are happy to provide a thorough examination and talk with you about the risks and benefits tooth saving/replacing options.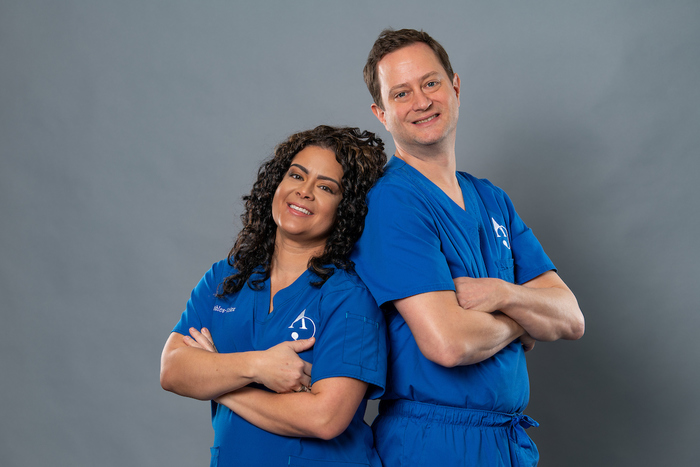 Benefits of Saving Your Tooth
Dr. Velez is an American Board-Certified Endodontist who specializes in modern root canal therapy. After a thorough examination using technology such as the dental operating microscope and 3D imaging, Dr. Velez may determine that the best course of action is to save your natural tooth.
Nothing truly compares to the look, feel and function of our natural teeth. Saving our teeth will help to maintain the alignment and overall health of our mouth. A procedure such as the root canal, apicoectomy, or other dental surgery may be required to save your tooth. If your natural tooth becomes diseased, Dr. Velez will provide a state-of-the-art examination and treatment to ensure your smile remains healthy, beautiful, and pain-free.
Benefits of Extraction
If decay or external damage has affected your tooth beyond saving, Dr. Jennibeth Robles, an American Board-Certified Oral and Maxillofacial Surgeon, will take appropriate measures to remove and replace the damaged tooth. In some cases, extraction is necessary for the overall health of your mouth. Advancing dental technologies have resulted in dental implants that look and feel almost like a real tooth. Dr. Robles will discuss all of the surgical options, including anesthesia and sedation, to keep patients comfortable during their procedures.
Modern dental implants help to maintain oral health that is optimized in esthetics and function.  Generally, dental implants are long-lasting and help you to regain confidence in your smile and function.
If you are experiencing pain or discomfort with your teeth, schedule an appointment with the team at Advanced Endodontics or Advanced Oral and facial specialists. Together with your general dentist, they will help you to achieve the best outcome for your oral health!