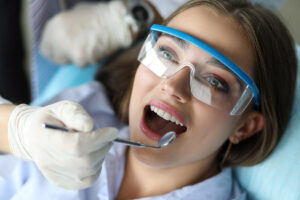 At Advanced Oral & Facial Specialists, Dr. Jennibeth Robles-Velez and her staff use the advanced technology of the cone-beam 3D CT scan. The CBCT provides highly accurate full-cranial, high-resolution, three-dimensional radiographic images, which are helpful when putting in dental implants and during other procedures.
The cone-beam CT provides precise views of the existing structures in different dimensions and will reconstruct a 3D picture, enabling a level of anatomical accuracy and patient care not possible with traditional 2D technologies.
Dental implants are the most comfortable and permanent solution for tooth replacement. Unlike bridges, no healthy teeth are damaged, and implants can last a lifetime. Implant-supported replacement teeth can be attractive, stable and comfortable for almost any patient.
There are several advantages for our patients when we use the cone beam 3D CT in conjunction with dental implant surgery.
Increased Accuracy and Safety
3D guided dental implant surgery offers a higher level of precision in implant placement than is possible in traditional implant surgeries. This leads to safer procedures with fewer complications because surgeons are able to see the exact position of critical structures such as bones, nerves, adjacent tooth roots and sinus cavities. During surgeries in which bone quality or quantity is an issue, for instance, or when we must work in tight spaces, this technology increases dental implant success.
Faster, More Comfortable Procedures
With this technology, we also can place dental implants with less invasive procedures than are used in traditional implant surgeries, making smaller incisions or, sometimes, no incisions. This means procedures are quicker and more comfortable for patients.
Quicker, Easier Recoveries
The more precise, less invasive dental implant procedures mean patients experience less pain, swelling, bruising and discomfort after surgery, which leads to faster healing. These factors help provide patients with shorter and more comfortable recovery times after surgery.
There are many other advantages to 3D guided dental implant surgery. Dr. Robles-Velez and her staff will be happy to discuss the procedure with you. Contact Advanced Oral & Facial Specialists today or call 803-226-9472.