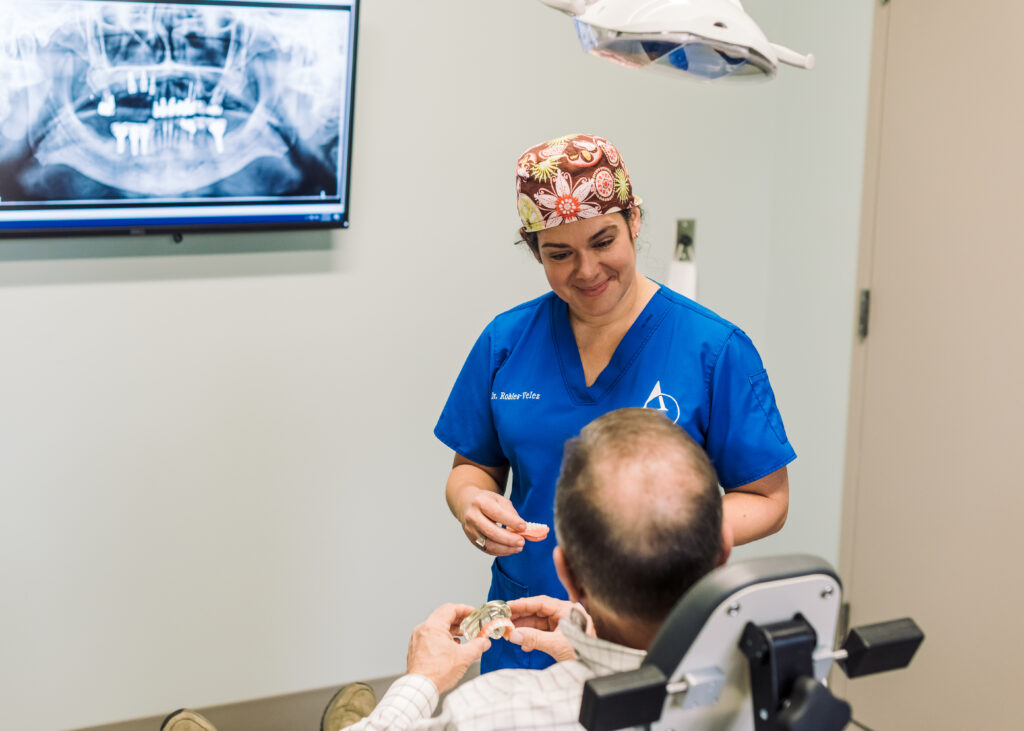 Did you know teeth are the hardest substance in the body? They help you eat, talk and smile, so when teeth are missing, they affect your quality of life and self-esteem in ways you probably never have considered. Advanced Oral and Facial Specialists proudly provides the All-On-4 dental implant procedure to return your award-winning smile quickly and effectively.
The All-On-4 Procedure
The All-On-4 is a surgical procedure that uses just four implants per arch to secure a set of dentures. Two of the implants are strategically placed at an angle at the densest part of your jaw line. Often, this procedure can be done without additional bone grafting.  All-On-4 procedure can be done in one day delivering a smile you are confident with.
Difference Between All-On-4 and Dentures
Dentures are removable devices used to replace teeth, fully or partially. They are held together by an acrylic or metal base that sits on gum tissue and uses suction to stay in place. Sometimes additional adhesive is needed. Most patients complain of dentures shifting and moving even with additional adhesive.
All-On-4, on the other hand, is a surgical procedure that uses four implants to replace the root of missing teeth. Over time, the implants fuse with the bone to permanently maintain them and function as part of the bone restoring chewing force up to 80%.
What to Expect
Consultation: In a consultation a comprehensive exam is performed reviewing your medical history and using the advanced technology of our 3D cone beam imaging to evaluate the structure of your jawbone. After thorough discussion and agreement of treatment plan, we will proceed with surgery.
Procedure: Once you are sedated, remaining teeth and damaged tissue is removed. Using a custom-fabricated surgical guide (created using 3D imaging), implants are precisely placed to obtain the greatest stability and angulation for restoration. Abutments will then be placed on implants to serve as appropriate attachment for temporary prosthesis. The healing process can now begin.
Post-op Recovery: We recommend 72 hours of recovery after your surgery. Instructions will be written and given to you verbally. Be sure to rest, stick to eating soft foods and use ice to reduce any swelling. Pain medication may also be prescribed.
The fusing of implants and bone — called osseointegration — can take anywhere from three to six months. Once complete, we remove your temporary dentures and replace them with permanent ones to give you your captivating smile.
Come See Us!
To schedule your appointment or learn more about the All-On-4 dental implant procedure, visit us at Advanced Oral and Facial Specialists. Give us a call at 803-226-9472 or go to  SmileAiken.com.